An Origami Army of the Past
In some very old German books I found the models of the historic rider and horse. More than one variation has been documented.
While folding the helmets and weapons for a knight, I was inspired to create an origami cavalry. Here are the photos of hussars, ulans, dragoons, chevauxlegers and the general staff. I folded a new head for rider and horse. Furthermore, I created a rider's arm, some jackets, helmets, weapons and flags. This equipment is truly folded, not cut as 200 years before.

Free download of the book (from www.origami-shop.com).
Cavalry

Chevauxleger

Ulan



Dragoon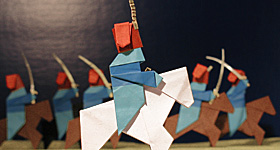 Hussar
Grenadier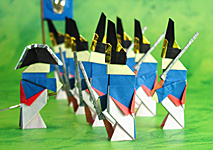 Grenadier
Music Corps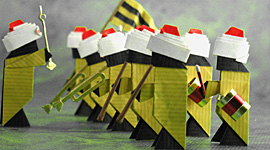 A music corps with moors.
High-ranking officers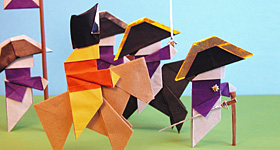 General staff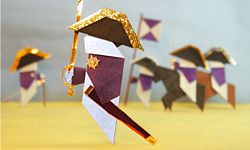 Prussian king