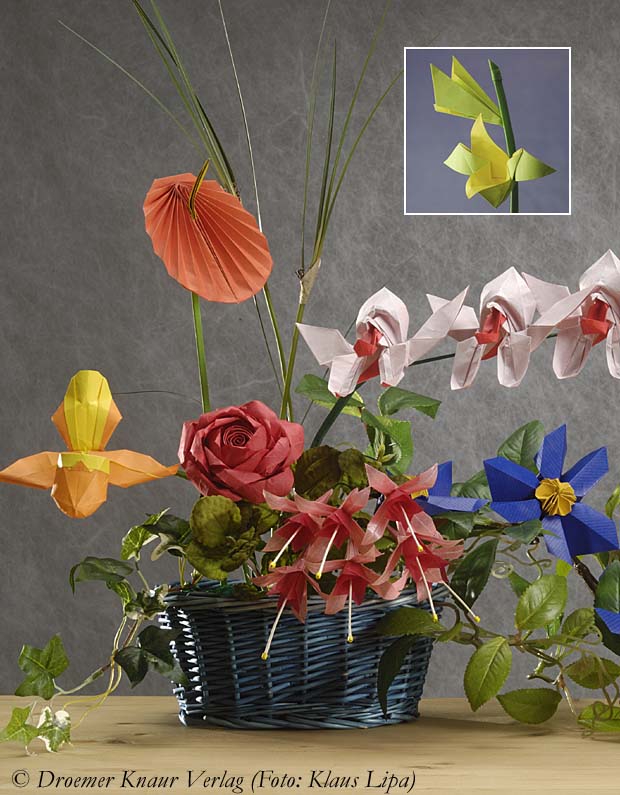 Blossoms Magic with Origami
The picture shows the seven models that I developed for this book. The book has 72 pages, is fully colored and published by a famous german-swiss publishing house.

Content
Clematis
Fuchsia
Hummingbird orchid
Lady's slipper
Dwarf orchid
Red anthuria
Rose
Five traditional origami blossoms


Jens-Helge Dahmen: Blütenzauber mit Origami.
Munich: Droemer-Knaur Verlag,
Feb. 2008, ISBN 978-3426647318
Jens-Helge Dahmen:
Origami - kwiaty z papieru.

Warszawa: Wydawnictwo RM,
marzec 2011, ISBN 978-8372439086
stycznia 2015, ISBN 978-8377734124
stycznia 2017, ISBN-13 978-8377737644
Йенс-Хельге Дамен: Волшебные цветы-оригами.
Клуб семейного досуга,
2012 г., ISBN 978-5-9910-1683-4